It's not you, it's me.
I realise that is about as old of a cliché as there is when a person is trying to let a loved-one down easy, but I promise you it is the truth... I just can't do this anymore.
You make me feel bad about myself. You make me feel dumb. Every week I spend an inordinate amount of time labouring over things for you, and what do I gain? More-often-than-not I do something wrong, and you inevitably crush me for it. And on the rare occasions that I make the right decision, the pay-off is never worth the stress that preceded it.
I know, I know, we've had some good times; heck, things were downright
great
at the beginning. Do you remember our first time? I do, it was in 2000. Steve introduced me to you. I was so foolish then, it's almost embarrassing to look back on it now. I was clumsy and uneducated,
but we caught lightning in a bottle in Green Bay that year
. It was magical, it was exciting... still, it wasn't fair. I was like a kid winning big his first time at a Casino, I was completely hooked. However, at the time, I had little-to-no understanding of what this new love of mine really meant.
You changed. That isn't an accusation or a condemnation. Far from it, in fact. If put to a vote, I think it would be unanimously agreed that you have changed for the better over the past 10 years. Unfortunately, I just don't find you fun anymore. We don't even come close to clicking like we used to, and I am sick and tired of you ripping my heart out every time we get together.
So that's that. I don't want to wind up hating you, so I am ending this now. It's over, I mean it. 2010-2011 is my final season of Fantasy Football.
In 2000-01, Ahman Green shocked the NFL with a breakout season for the Green Bay Packers. This also happened to be my
first season
of fantasy football, and Ahman was the star of that first team. An obsession was born.
I admit that my decision to leave fantasy football may have a slight
odour
of sour grapes. I haven't won a league championship in 10 years, and it's true that I am simply sick of losing.
This decade-long dearth of

dorky

dominance might prompt one to say "

Well,

Danno

, you obviously suck at this game, so probably shouldn't even be playing it in the first place.

" And I could see how, to a non-fantasy player, it would appear that way. But fantasy football is so full of season-crippling bad luck, and table-dominating dumb luck, that it really doesn't take much skill to be a winner.
On the dumb-luck side of things, there is just too many to list. A team can take a flyer on an unproven and unheralded rookie in the late rounds of a draft, and he can end up winning the season for them. This happened with players such as Clinton
Portis
, Chris Johnson, Ben
Roethlisberger
, Philip Rivers,
Anquan
Boldin
and Devin
Hester
to name a few, and never for my teams of course.
My forays into rookie flyers were never so successful. Guys like
Reggie
Bush, Joey
Harrington
, Alex Smith, Charles Rogers,
Jamarcus
Russel
, and David
Carr
all spent time littering my bench before mid-season releases. Sam Bradford seems to be doing a half-decent job as a rookie NFL quarterback for my team so far this season, so expect him to break his collarbone any day now.
Mel
Kiper Jr. has made himself a millionaire by predicting which college football players would make the best NFL players, and if
he
was wrong about all those guys, then what chance did I have?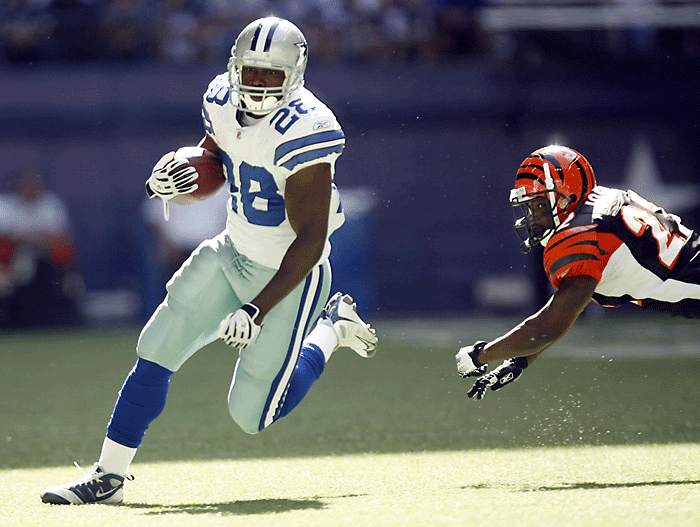 Felix Jones is a prime example of how The Year of the Committee has ruined some players' fantasy value.
"So, why is 2010-11 the season you finally give it up,

Danno

? Everyone deals with injuries and flukes in fantasy football. You've persevered through ten years of that nonsense, what is it about this season that has pushed you over the edge?"

Good question,

italics

person. The answer is simple: 2010 has proved to be my breaking point because 2010 has become The Year of the Committee.
The Year of the Committee
Prior to this year, everyone knew that running back was the most important position in fantasy football. There was no debating it, it was a fact. Quarterback may be more glamorous, and (if you are aiming for longevity) a QB will often play two or three times as many productive seasons as an RB. However, in a single-season scenario, the first overall picks (and the subsequent 2-3 picks thereafter) have always been reserved for running backs. 2010 may have changed all that.
There are only a handful of running backs in the NFL right now with true cornerstone fantasy value. Why is this? Because more than half the teams in the NFL got together and decided they were going to intentionally fuck with me, and split their carries among multiple backs.
It used to be that teams would have a horse who would take most of the hand-offs and handle the majority of the carrying duties. It was this dynamic that has fueled fantasy football for ten seasons, but not so in 2010. This year teams are splitting their carries between two or even three different backs. This means that the fantasy players who happen to have lucked into selecting a RB who is a bona-fide #1 are in a position of distinct advantage over those of us who are stuck with a back who only handles 33.33333% of his team's rushes.
This has left me labouring over my decisions of who to start at RB each week, because one never knows when a member of a running back committee may get a few more hand-offs that week. So far I have been wrong every time. 2010-11 is already a write-off season for my squad. There is no way I can compete against teams with backs who are getting the ball 25 times a game, while mine are lucky to get 10 carries. It just isn't fun anymore.
And so I am done. I am retiring in disgrace after the conclusion of what is shaping up to be my first winless fantasy season. I won't undermine my league by intentionally throwing games or giving away star players to my friends, but my heart simply won't be in it anymore. I'll root for my players each Sunday for the next 13 weeks, then I'll bow out of my keeper league and never look back.
Lucky for me, fantasy hockey season starts in a day or two.