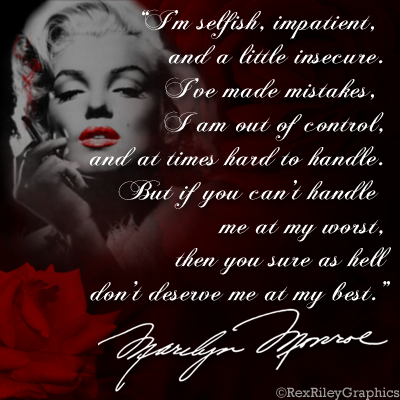 "I'm selfish, impatient and a little insecure. I make mistakes, I am out of control and at times hard to handle. But if you can't handle me at my worst, then you sure as hell don't deserve me at my best." ― Marilyn Monroe
---------------------------------------------------------------------------------
That quote.  That fucking quote.  We have all seen it before.  From the inside of high school locker doors to the lower back tattoos of 38 year olds still clinging to the absurd notion that real men should be like Nicholas Sparks characters (and all the Facebook statuses and campus poster sales in-between), that quote is everyfuckingwhere.  I'd take a steaming load of "dance like no one's watching" all over my face ten times out of ten rather than be reminded that you're "selfish, impatient and a little insecure..." every time you have a fight with your boyfriend/girlfriend.
Ignoring the source for a minute, let us just examine the quote, shall we?
"I'm selfish, impatient and a little insecure. I make mistakes, I am out of control and at times hard to handle."